WE FIX & INSTALL WATER DRAINAGE IN DANBURY CT!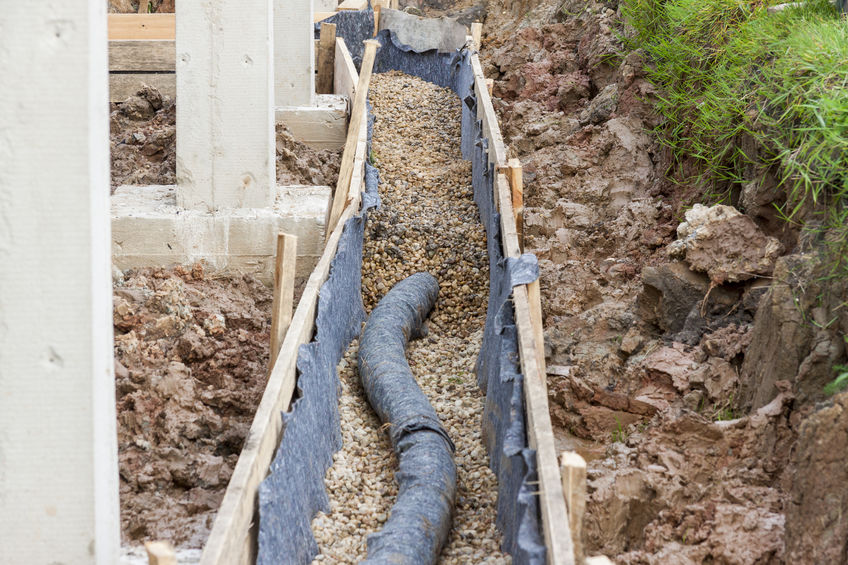 If you've been facing issues such as water pooling in your yard and lawn, or finding yourself continually dealing with standing water after rain, then looking into a landscape drainage solution may be right for you.
Connecticut Excavation has been bringing Danbury and the surrounding areas the water drainage services required to have a drainage trench placed on your property, bringing and effective resolution to these issues.
No matter the level of your drainage issue, you can depend on our experts to bring you the right planning and implementation of drainage services. To get started, give us a call or contact us online. Someone will be in touch to answer your questions and give you a free estimate.
TRENCH DIGGING SPECIALISTS
In order to bring your drainage trench services to your home in a means that provides efficiency while looking out for your property, we first bring in the experts needed to lay out the plan. In this time, our professionals will go over the property to lay out the route required to both provide a dependable drainage system and the means to go through as little obstacle as possible. In the event that you have items in the way that need to be tended to, you can depend on our experts to lay out all the information to you prior to laying any pipe. Some things to consider are:
Trench location to maximize efficiency & minimize cost
The material and thickness of the system
The depth of the trench and the composition of the soil
WATER DRAINAGE SERVICES
Due to the amount of rain and hills in Connecticut, many homes and business are outfitted with drainage solutions upon construction. However, there are still many buildings that were built before good water drainage systems existed. If you are experiencing water pooling in your yard or moisture in your basement after a storm, consider getting an interior or exterior drainage solution before your foundation is damaged. We offer excavation for the following systems.
CURTAIN DRAIN EXCAVATION
When planning a drainage system, it is important to consider the depth at which the water you are trying to control lives. If you are dealing with primarily surface water, then a curtain drain is a perfect solution. It is similar to a french drain, but is dug shallower, and is much more effective for surface water drainage. For more information about installing a curtain drainage system in CT, our excavation contractors are ready to assist with your drainage solutions.
FOOTING DRAIN EXCAVATION
Footing drains are installed at the base of the foundation of a building to keep water well away from the foundation footings, which are essential to keeping the entire building structurally sound. If you are concerned about foundation damage occurring from surface or ground water, consider learning more about footing drain installation in CT. These systems are extremely effective and Connecticut Excavation can assist with drainage excavation.
FRENCH DRAIN EXCAVATION
If you have a more severe water drainage problem, you may need to consider a french drain installation in CT. The process is simple, but having a professional excavation service will make the job much easier than digging a trench by hand. Connecticut Excavation offers professional french drain installation services for a fraction of the price of competitors. Get in touch to learn more about drainage excavation and a free, no-obligations quote. Let us know how we can help.
SUMP PUMP EXCAVATION
If you need excavation for a sump pump installation in CT, you've come to the right company. When digging trenches for sump pumps, it is important to have experience with the types of soil and rock around the foundation. Improper sump pump installation can result in property damage. Unlike a general contractor, we're knowledgable with foundation work and fully licensed & insured in the event there is an issue. We're committed to 100% customer satisfaction.
DRAINAGE ROUTING
When planning out your drainage route, our drainage contractors near Danbury, CT will attempt to do so in a means that provides proper placement, while going through as little barriers as possible. Whether this is your flower beds, sheds, statues or otherwise we will bring you the information needed to ensure that you have plenty of notification, and also provide you with assistance for items that may be a little too troublesome, as our experts will have the right equipment on hand. We want to bring you effective results, while looking out for the state of your property at all times.
WE STORE TOPSOIL
Once your drainage trench is being dug, having the means to store the topsoil in a location that avoids contamination, and keeps it safeguarded until time for backfilling. When landscape draining or sump pump draining, we ensure as well that all of your removed greenery is properly cared for as well to ensure you can quickly replant once the drainage system is implemented in your yard. You can always depend on Connecticut Excavation to think of all aspects of your drainage excavation services, as we have been bringing this high-quality specialized service to Danbury and the surrounding areas for many years.
DRAINAGE BACKFILLING
After your drainage is properly installed, you can be sure that the work of the backyard drainage contractors at Connecticut Excavation isn't finished. We come back to the space to ensure that you have the assistance you need in proper backfilling, and replacing of topsoil in order to complete the process we began.
We not only aim to provide you with the means to get your backyard drainage installed quickly and easily, yet also to bring you the thorough services needed to bring your property back to a state of enjoyment and beauty. When you need a professional company to bring you complete services, you need the pros at Connecticut Excavation. ​